When all the major sectors of the world are embracing the latest technologies to bring more innovative practices, why should the farming sector be left behind? Digital transformation in the agricultural industry can be revolutionary. The prominent step towards this revolution is by making existing machinery evolve and be more technologically advanced.

Farming machinery like tractors has been in use for centuries, prior to which, people used animal power. With the introduction of tractors, the mechanical age of farming began for good. Sure, the use of tractors has increased efficiency and productivity but why stop there? It's time for the next milestone by introducing the SMART Tractors of Massey Ferguson.

Benefits Of MF SMART Tractor

By incorporating the latest technology into farming, we aim for greater productivity. SMART tractors are the right step towards this. With multiple SMART features, tractors are now easier to use and more efficient. These SMART features also allow flexibility in the usage of tractors to suit modern farming methods. Giving the farmer more control over their yield, SMART tractors pave the way to intelligent and accurate agricultural practices.
The Massey Ferguson brand is recognized globally for its hydraulics, and the SMART series is further upgraded to offer unmatched hydraulic capacity through its unique COMBIBOOST system, for quick lifting of heavy load. The eSMART HYDRAULICS TM, uses precision electro-hydraulics to deliver better yield, productivity and operating cost. The DTRB PTO boosts farm power and makes it suitable for Powervator and all PTO applications. The flex-links ensure SMART hitching and unhitching of equipment, adding to the overall ease of use and delightful experience of operating the tractor. Customized hitch rails and oil-pipe kits for tipping trolleys as factory-fits make this an ideal tractor for haulage applications.

The MDSSTM brakes with FricpadTM offers SMART braking enhancing fuel economy and brake-life. The iLEADTM advanced technology enabled SMART key electronically leads, locates and locks the tractor – all at the fingertip of the operator, remotely. The new operator station offers SMART international styling and unmatched operator ergonomics.

The new SMART range is equipped with both 2-wheel drive (2WD) and 4-wheel drive (4WD) variants across the range with G4–4WD and T5–2WD, axle options. The range also includes tractors with a choice of manual and power steering with the tonner axle that offers a larger wheel base for increased traction and stability.
The Massey Ferguson SMART Tractors are of four main kinds.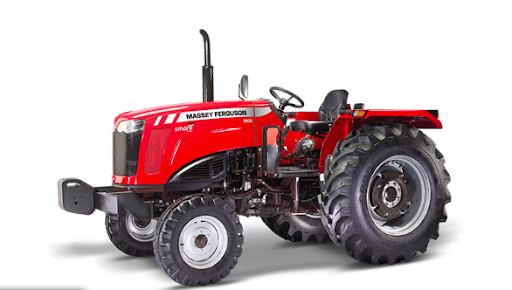 MF 9500 series has the best in class fuel capacity. With an HP range of 58 and a hydraulics lifting capacity of 2050 kgf, MF 9500 2WD tractor is a superior option that helps in advanced farming and haulage . Its unique features include a SMART key, SMART instrument cluster, and SMART headlamp, paving the way to greater agricultural efficiency. The MF 9500 2WD also features a mat footstep, new raised bumper, glass heat deflectors, auxiliary pump, front weights, spool valve, and a fuel tank capacity of 70 L.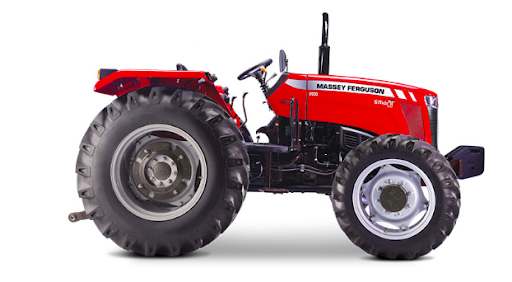 With an HP range of 58, this MF tractor contains similar features like a SMART key, SMART cluster, mat footstep, glass heat deflectors, auxiliary pump, front weights, spool valve, and combi valve. It varies slightly in terms of weight and size, with MF 9500 4WD weighing around 250 kg more. Both the variants have power steering and dual-clutch types.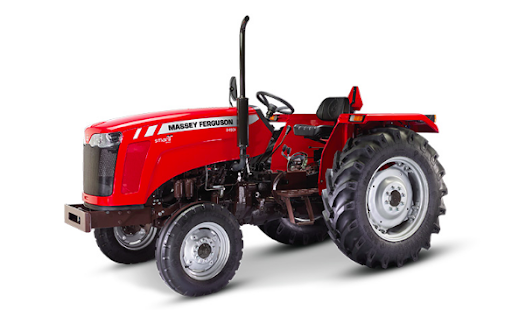 This MF 245 SMART tractor has a robust 46 HP engine and a fuel tank capacity of 47 L. This tractor is far from the traditional tractors with a SMART key, adjustable hitch, front opening bonnet, push-type pedals, and adjustable seat. It allows more control over the framing practice and boosts productivity. This hydraulics lifting capacity stands at 1700 kgf.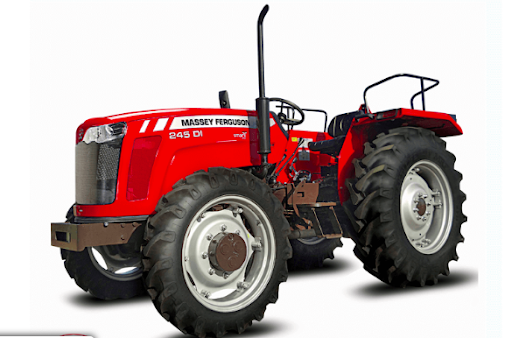 Though the HP range and fuel tank capacity are the same as the 2WD, the MF 245 4WD tractor has a higher forward speed (34.05 kmph). The key features include SMART key, adjustable hitch, front opening bonnet, push-type pedals, adjustable seat.
Massey Ferguson, being the world-renowned premium brand offering a variety of tractors and other farming equipment, we work on introducing innovative tractors that shape the agricultural landscape. On a hunt to optimise efficiency and productivity, MF offers SMART tractors that overcome the drawbacks of traditional tractors and hence revolutionize farming methods. Be a step ahead with MF's latest advancements.