This year TAFE celebrates its Diamond Jubilee, 60 glorious years of work and a way of life and work that celebrates values and people first.
On a cool morning, December 15, 1960 to be precise, when Mr. S. Anantharamakrishnan announced at a press conference in Chennai, his plans to manufacture tractors and implements at Simpson's Industrial Estate in collaboration with Massey Ferguson of Toronto it started another Green Revolution – the mechanization of farming in India.
It is only fitting that we pay tribute to S Anantharamakrishnan, fondly called J and to the people who followed him in taking TAFE to its present leadership position through a spotlight series – 6 in all.
It plots the genesis of TAFE – the hard work of men and women of TAFE, the pioneering spirit of J, the gentle giant that A Sivasailam was, the gender bender that Mallika Srinivasan proved to be and the story of cultivating a dream that after 60 years is Cultivating the World.
Chronicle 6: The Balance in the Balance Sheet
Ms. Mallika Srinivasan believes in contributing to the betterment of society and going beyond her chosen field of work. Education, healthcare, community development, women empowerment, conservation and tribal welfare, disaster relief, preservation and propagation of Indian culture and its traditional art forms, have all found a place in keeping with Mallika Srinivasan's beliefs and values.
If building wealth requires a certain daring, basing it on an equitable platform for the progress of all requires a natural sense of caring and sharing. In TAFE's 60 years journey, the three generations from Mr. Anantharamakrishan fondly known as "J", Mr. Sivasailam to Ms. Mallika Srinivasan have always been nation builders who created wealth and a compassionate organization as well.
Mallika Srinivasan's steering of TAFE has seen it reach heights and be a globally loved and accepted Tractor brand. Today, TAFE ranks amongst the Top 3 makers, exporters and sellers of tractors and farm equipment in the world. And in all this, the business has always combined with social responsibility. Like two eyes, indispensable.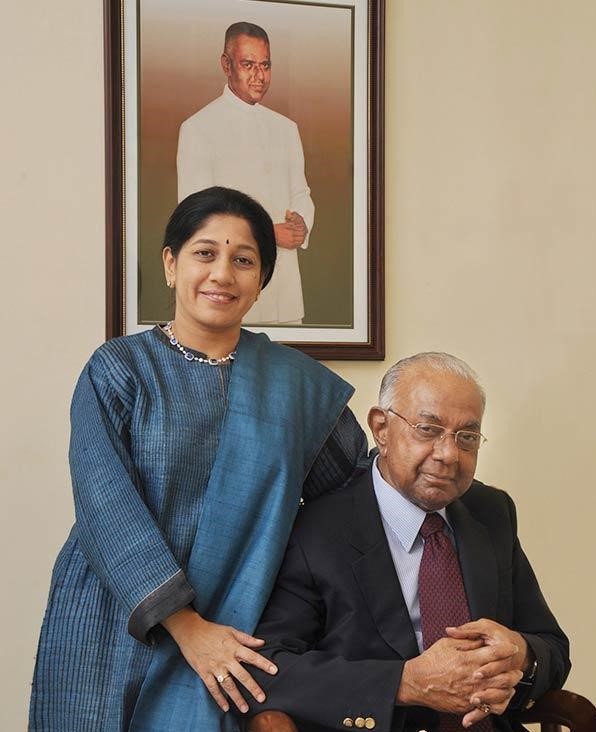 If J placed great emphasis on relationships, harmony in the workforce, Mr. Sivasailam changed lives with his statement "Look at abilities and not disabilities". He was a pioneer in creating opportunities for the differently-abled with his JRehab Center. Mallika Srinivasan today carries forward this legacy of all-round development and empowering the women of the center in her own way. Under her leadership JRehab has grown beyond measure.
So, life beyond TAFE has seen Mallika Srinivasan's signature and stamp in matters that went beyond business… into the culture, in healthcare, education, women empowerment and in social issues important for the wellbeing and holistic growth of all.
Enable, Engage, Empower – JRehab
To JRehab, established in 1980 at Alampatti near Madurai, won the National Award for the Best Employer for People with Disabilities in the year 2000. The same year, the State Government of Tamil Nadu conferred JRehab with the Best Employer Award for providing the highest number of employment opportunities to persons with disabilities. This was possible because of Mallika's father and former Chairman A Sivasailam's simple shift of perspective "Focus on abilities not on disabilities" he said and the game simply changed for some women.
JRehab employs orthopedically challenged women to make wiring harnesses, fender harnesses, battery cables, trailer sockets and toolkit bags for TAFE's tractors. All this is not mere charity. This all-women workforce is run as a regular business, targets are set, plans put in place, and objectives consistently achieved. Watch the video to know the story of these women and their stellar role during Covid -19. Click here to view.
Opening the Eyes
TAFE under Mallika has added to the reputation, capabilities and infrastructure of Sri Sankara Nethralaya by dedicating a wing namedSri A Sivasailam Block for specialty eye care. Sri. A. Sivasailam block houses six floors of specialty ophthalmic care, modern infrastructure, world-class equipment and advanced facilities, especially tending to Cornea, Vitreo Retinal issues and Glaucoma among other services. Approximately 600 patients avail free or low-cost, high-quality eye care at the facility every day. Support to The Adyar Cancer Institute and care for children suffering from cancer through the Child's Trust Medical research Foundation have enabled access to the best of treatments, Doctors and technological advancements in healthcare for the less privileged sections of our society. Paying a debt to her and her family's roots, Mallika through TAFE also supports health care initiatives in her native village of Alwarkurichi and its surroundings.
Being Responsive and Responsible!
The pandemic saw TAFE under Ms. Mallika Srinivasan come forward to ease the farmers' economic stress with its timely, unique Free Tractor Rental scheme. It saved the crops, the season and took a load off the community. JFarm Services, the CSR initiative by TAFE aimed to rescue the farming community from the economic implications of COVID-19, and mitigate the impact of the Coronavirus threat on farming operations of small and marginal farmers during the critical Rabi harvest and Kharif preparation season. The Free Tractor Rental Scheme, made it possible for thousands of small and marginal farmers of Tamil Nadu to save their crops and carry on with their agricultural operations in an uninterrupted manner despite the severe distress caused by the second wave of COVID-19 pandemic and the subsequent lockdowns. The scheme received an overwhelming response from the farming community.
Educate and Evolve
Mallika Srinivasan is a key member of leading educational institutes in India and abroad. She is the Executive Board of the Indian School of Business (ISB) – Hyderabad, member of the Governing Board of the Indian Institute of Technology (IIT) – Madras and a member of the Governing Body of Stella Maris College – Chennai. She believes in holistic education and encourages and inspires the workforce as well as the youth in the country to acquire new skill sets and upgrade themselves to catch up with the latest and newest of trends in the modern and ever-changing world.
The Wharton School, University of Pennsylvania launched a new course in 2020, "Epidemics, Natural Disasters, and Geopolitics: Managing Global Business and Financial Uncertainty," which focuses on the impact and implications of the #Coronavirus (COVID-19) pandemic. Topics include the situation in India, how the agriculture sector has been affected and the biggest decisions made by Ms. Mallika Srinivasan to ensure business continuity at TAFE.
Watch the full video of Prof. Mauro Guillen from The Wharton School of the University of Pennsylvania talks with Ms. Mallika Srinivasan – Chairman & Managing Director, TAFE – Tractors and Farm Equipment Limited, as part of Wharton's new course. Click here to view
Mallika Srinivasan recently inaugurated The Jayshree Venkatraman Digital Learning and Research Center, at Stella Maris College, established in the memory of Jayshree Venkatraman – erstwhile Chairman of AMCO Batteries and Director of TAFE. This centre will offer physical and digital infrastructure for conducting online and hybrid courses, producing web-based learning modules and optimizing online collaborations with academic institutions and the #industry across the globe. The Jayshree Venkatraman Digital Learning and Research Centre is a truly advanced space for an immersive and experience based learning, bringing together participants "in-class" and "remote locations", using highly versatile communication software. Learn more about it through this blog.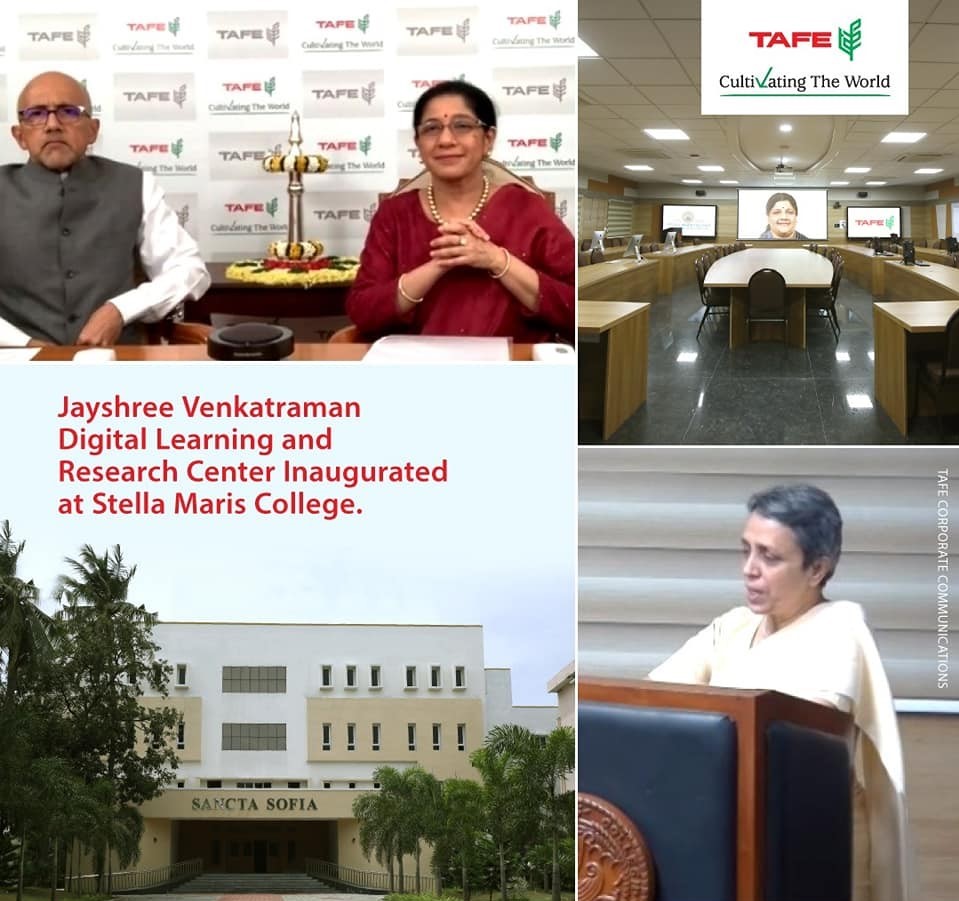 Towards Personal Fulfillment
One among them is an enduring tribute to her homemaker mother Indira Sivasailam. Indira was a student, rasika and connoisseur of Carnatic Music which was second only to her lifelong passion for South Indian traditions, culture, heritage and crafts. If Sivasailam implicitly trusted Mallika Srinivasan for her business acumen and let her find her own way and style, Indira inculcated the importance of arts in the stressful, responsible, demanding environment of business. Mallika Srinivasan and her family's way of enshrining her mother's memory helped create The Indira Sivasailam Foundation in 2010. Today, in a decade, in the city of Chennai, the Foundation is an inspiration for the community of musicians, people in fine arts and young, emerging talent.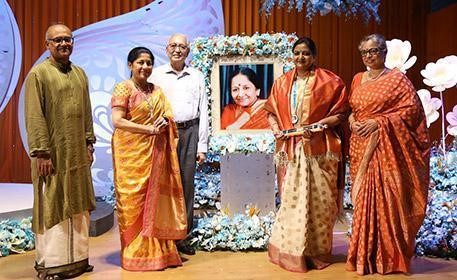 Acknowledging her parents for providing a sense of balance and a prescription for a wholesome way of life, Mallika Srinivasan gives a shout out "Amma, I thank you and Appa for creating in me and our family a sense of appreciation for the fine South Indian traditions that have made our lives so holistic, filling it with a sense of purpose and joy."
The same energy, commitment and innate desire to be useful and helpful is reflected in Mallika's social outreach across fields, across the country. JRehab is one such foray that looked at people's inner strengths.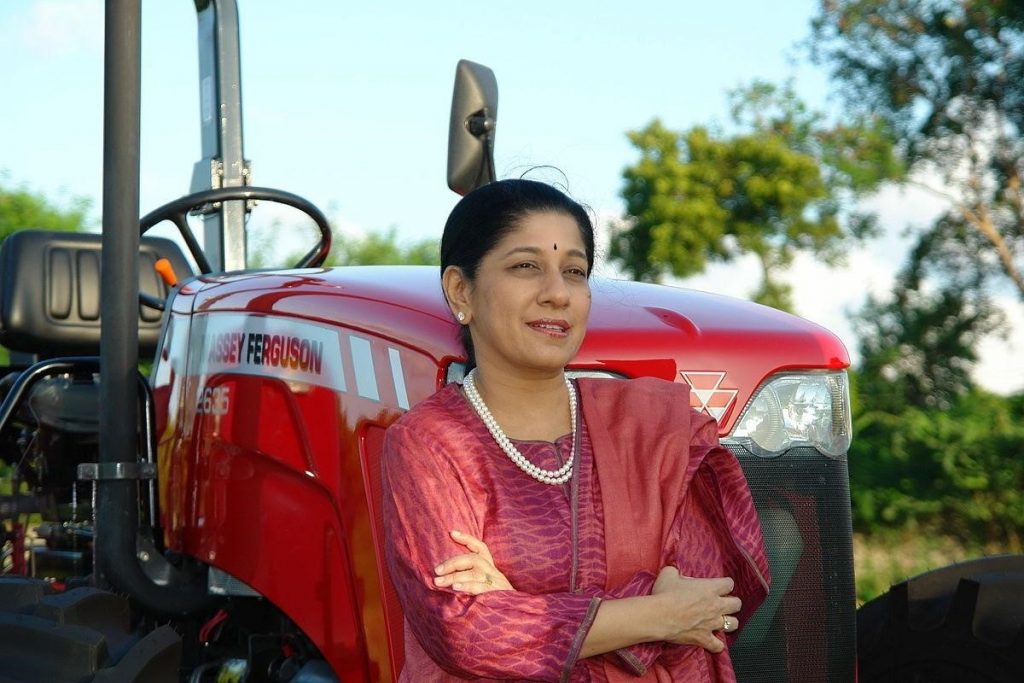 TAFE's JFarm too is now ready to celebrate a few jubilees of its own having been established in 1964, continues to assist farmers with research, technology and knowledge sharing.
The Sankara Nethralaya added to its reputation as a world-class center for eye care by commissioning the A Sivasailam Block. It was a tribute from Ms. Srinivasan to honour the memory of her father and former Chairman.
Sensitive support to the Tribals in Tamil Nadu's Nilgiris Biosphere has helped change their lives for the better without taking anything away from their unique way of life, environment and traditions. Ecology and Economy need not be at war against each other. They are complementary, not contradictory.
TAFE, as a consistent profit-making company and an ethical organization, continues its journey in Cultivating The World…