This year TAFE celebrates its Diamond Jubilee, 60 glorious years of work and a way of life and work that celebrates values and people first.
On a cool morning, December 15, 1960 to be precise, when Mr. S. Anantharamakrishnan announced at a press conference in Chennai, his plans to manufacture tractors and implements at Simpson's Industrial Estate in collaboration with Massey Ferguson of Toronto it started another Green Revolution – the mechanization of farming in India.
It is only fitting that we pay tribute to S Anantharamakrishnan, fondly called J and to the people who followed him in taking TAFE to its present leadership position through a spotlight series – 6 in all.
It plots the genesis of TAFE – the hard work of men and women of TAFE, the pioneering spirit of J, the gentle giant that A Sivasailam was, the gender bender that Mallika Srinivasan proved to be and the story of cultivating a dream that after 60 years is Cultivating the World.
Chronicle 3: Giving Wings to a Vision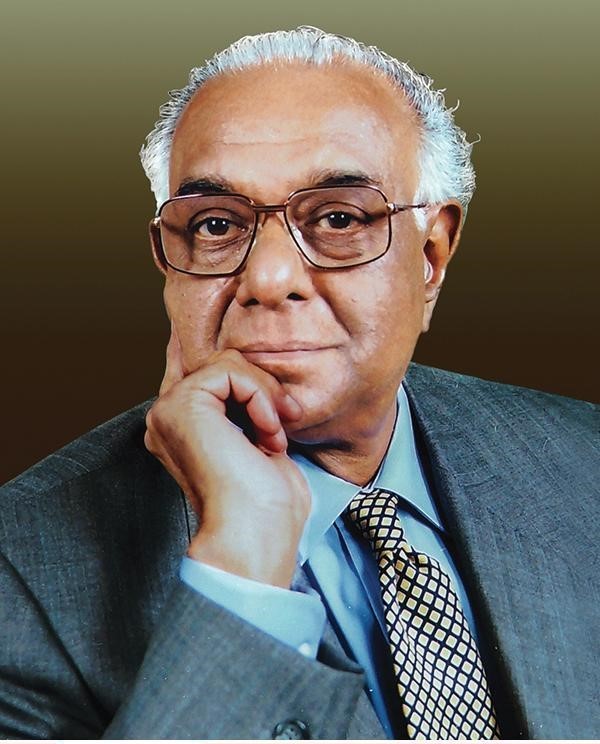 Generational Shift
Continuing with the TAFE saga, after Mr. S. Anantharamakrishnan set the stage for a revolution in farm mechanization by building world class tractors, his son and heir Mr. A. Sivasailam gave it the wings needed to be on the world stage. Mr. Sivasailam, who really shaped TAFE in the vision of his father and in his own unique way.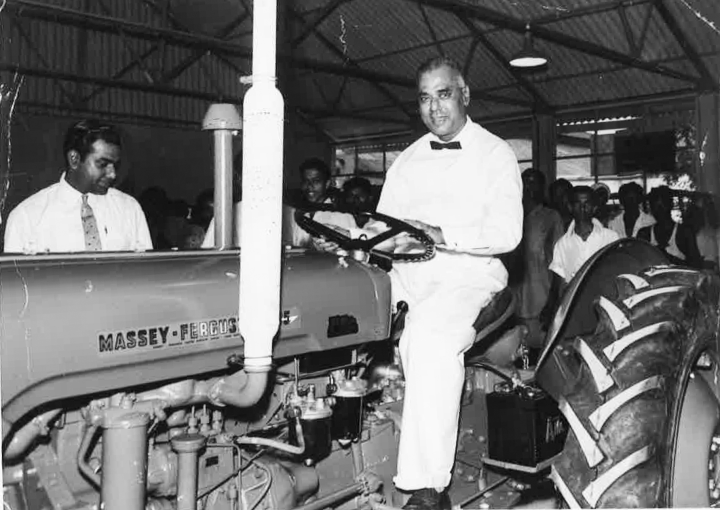 Getting Set, Building Character
"You are the worthy son of a worthy father, but you have much to bear" said C Rajagopalachari and this was spot on because no two eras could be as different as that between father and son.
By the time Mr. Sivasailam took over the reins of TAFE, India had changed from what it was during J's times. It was a nation where a business man had to have an endless reservoir of patience, tact, cajoling power, doggedness and a heart for staying the course in a milieu that did not exactly celebrate effervescence, entrepreneurship and enterprise.
It has been observed by several leading industrialists that Mr. Sivasailam's major achievement was to have built a huge business empire during the Licence Raj, without the help of any proximity to politics. Equally, it was an achievement of sorts to resist the temptation to grab headlines by mindless acquisitions during the post-licence raj era, he said. (*source Business Line)
Mr. Sivasailam straddled the two eras as only he could – as a personality who always looked for balance in whatever they did.
Looking Back, Looking Ahead.
Like his father, Mr. Sivasailam was born in Alwarkurichi in South India in 1934. He graduated in Commerce from the famed Loyola College of the then Madras. A Masters in Management Accounting in London, a stint there in a Chartered Accountancy firm and then it was homecoming to join the Amalgamations Group in 1957 as Controller and Treasurer. In January 1961, he became the GM of TAFE, which then was just a year old. By 1967, Mr. Sivasailam was to become the Chairman of Amalgamations group of which TAFE was the flagship and remains so today.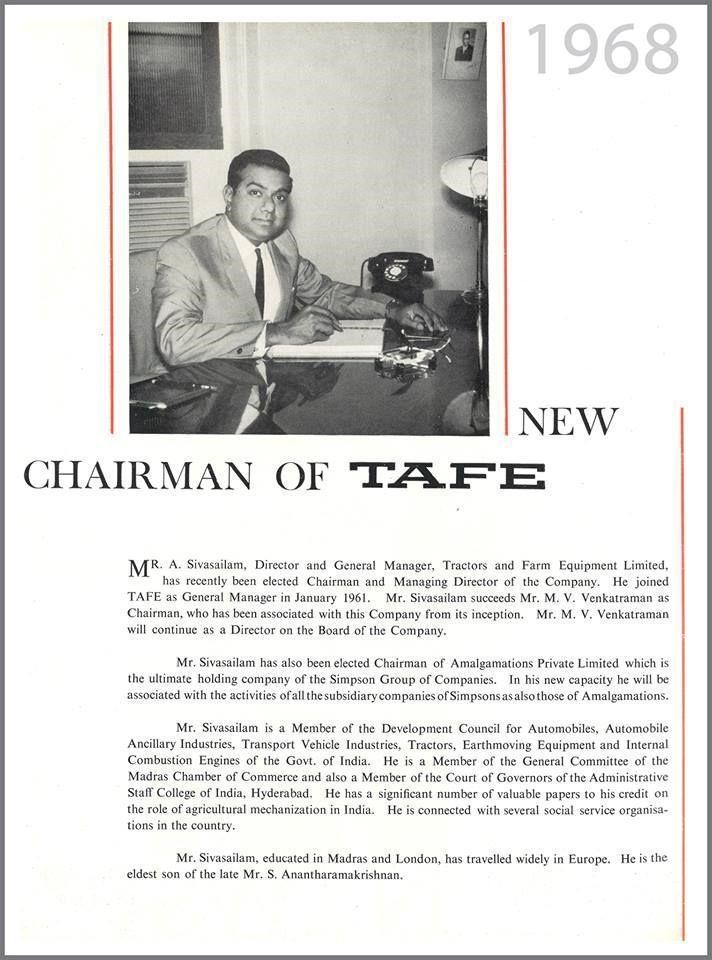 Old timers recall how the TAFE people including Mr. Sivasailam himself walked, trekked, travelled, across India indifferent to the conditions, staying where available, adapting to food, to make a case for mechanization. There was a lot of opposition to it then by authorities and by vested interests. But these men had the pioneer's spirit and went about doing what they had to and what they believed in.
Mr. Sivasailam steered TAFE through this period with élan. He remained buoyant about people, ideas, technology and had an abiding faith in the talent around him. He also affirmed and reiterated the values J had always set store by.
TAFE was always close to Mr. Sivasailam's heart and both the man and his machines went on to change the very fabric of India's agricultural landscape. Mr. Sivasailam consolidated, carried forward and created an organization that today is India's second largest tractor manufacturer and its largest exporter of tractors.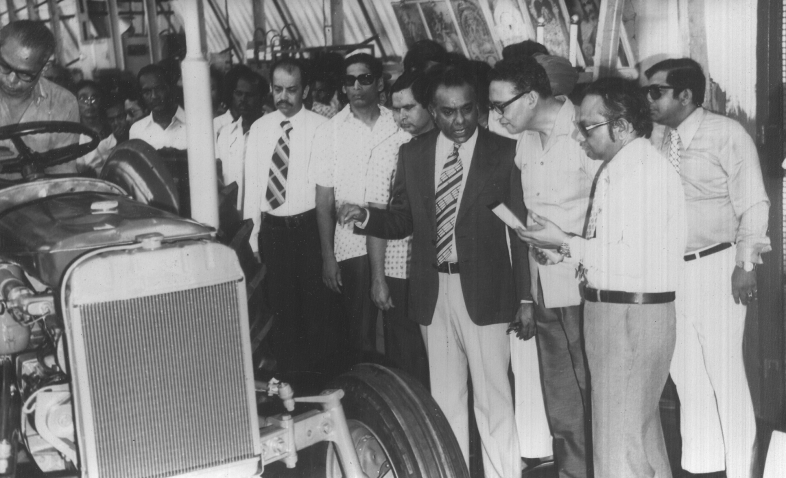 Creating Values, Building Relationships
"Ethics is to our business what character is to you" was his credo.
Relationship was another facet of business close to him. Building enduring relationships with all stakeholders was the bedrock of J's values and beliefs. For Mr. Sivasailam it was the same.
This mutual bonding and the desire to benefit all involved has been the lingering theme and a constant in the Groups' dealing with partners, labour, workforce, dealers and customers at large. It has stood the test of time too with generations of stakeholders who strengthened their relationship with both the Group and TAFE.
The Soft Touch, the Hard Work
There is a moniker often applied to him by those who were close to him, the Gentle Chairman. Yet he was a great competitor who played by the rules but played hard. Mr. Sivasailam undoubtedly was the architect who built the export bridge to take tractors to foreign shores. He was a pioneer really who built a strong image for India in Europe by ensuring world class standards back home. He built strong, savvy, impeccable teams in the 60s through 80s who carried the values, transparency and integrity that was the hallmark of TAFE to build lasting, enduring relationships across the world.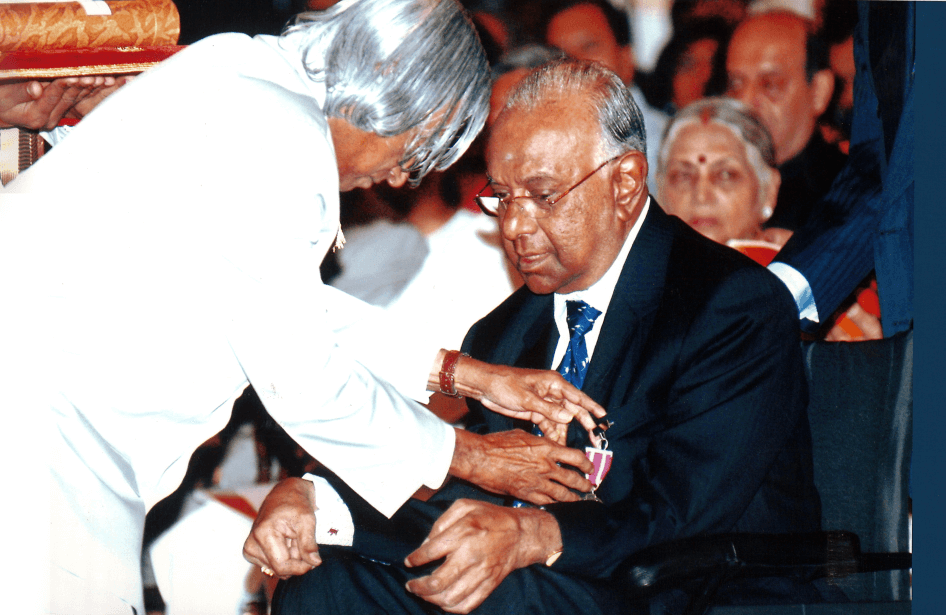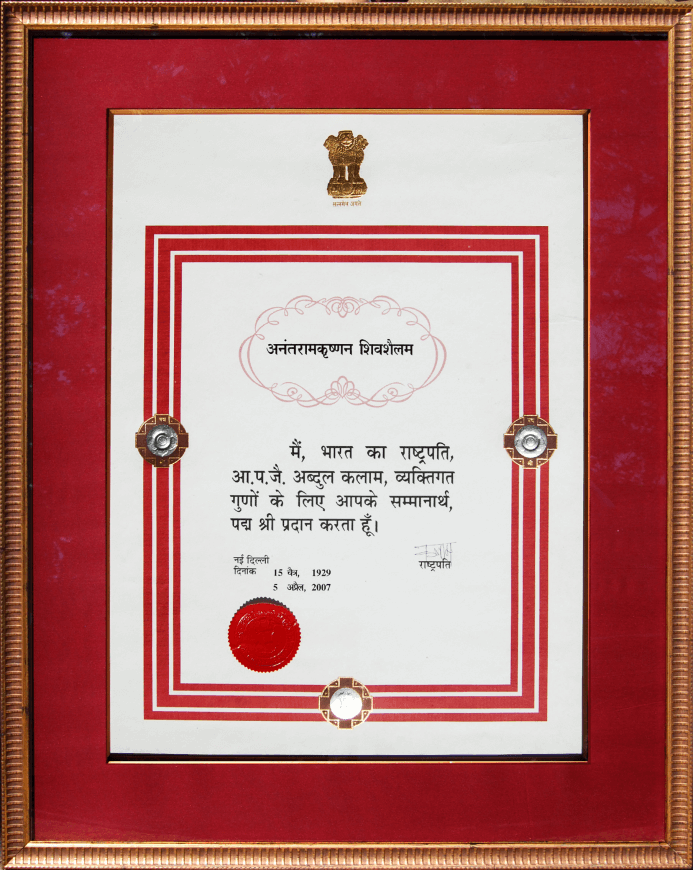 The Art of Giving
Right up there amongst India's greatest business leaders, Mr. A. Sivasailam was awarded the Padma Shri in 2007 in Trade and Industry in recognition of his efforts in putting the country on the world map in his own quiet style.
Tamil Nadu Agricultural University in 2010 awarded him a Doctorate in Agriculture Honoris Causa, for his contribution to the field of Agriculture.
A Philanthropist, a quiet yet passionate Patron of Arts and Culture along with his wife Indira Mr. Sivasailam and a pioneer who went about doing things in a typically understated style.
Of Horses and Horsepower! Beyond Tractors
Another little known facet of Mr. Sivasailam was his love for horses. He had one himself. He loved cars and was always present at vintage car rallies. Perhaps it came from his father J who was one of the pioneers in the auto industry and who is even today considered as the reason for what was then Madras earning the sobriquet Detroit of the South!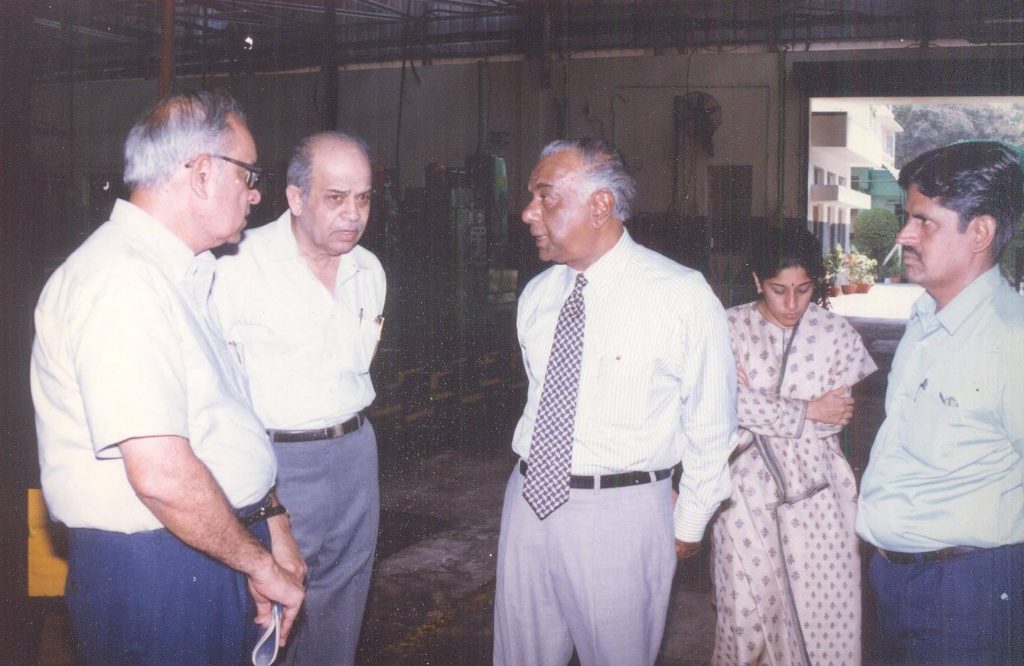 Vision Accomplished!
"Excellence is not just something that we engineer, inspect and input into our products. It is an innate desire to obtain the best that comes from within each one of us. It defines our lives at work and at home and ripples out into the world around us." This belief of Mr. Sivasailam made him one of those rare business figures who always had time to search for the best in each one of the people who worked with him, came across him in his lifetime even if only for a fleeting moment.
Many eminent business leaders of Chennai referred to Mr. Sivasailam as a father figure for Chennai. How he impacted millions of people, legions of friends, thousands of co-workers, peers, stakeholders and fellow travelers is another journey for another day.