This year TAFE celebrates its Diamond Jubilee, 60 glorious years of work and a way of life and work that celebrates values and people first.
On a cool morning, December 15, 1960 to be precise, when Mr. S. Anantharamakrishnan announced at a press conference in Chennai, his plans to manufacture tractors and implements at Simpson's Industrial Estate in collaboration with Massey Ferguson of Toronto it started another Green Revolution – the mechanization of farming in India.
It is only fitting that we pay tribute to S Anantharamakrishnan, fondly called J and to the people who followed him in taking TAFE to its present leadership position through a spotlight series – 6 in all.
It plots the genesis of TAFE – the hard work of men and women of TAFE, the pioneering spirit of J, the gentle giant that A Sivasailam was, the gender bender that Mallika Srinivasan proved to be and the story of cultivating a dream that after 60 years is Cultivating the World.
proved to be and the story of cultivating a dream that after 60 years is Cultivating the World.
Chronicle 5 – The Tractor Queen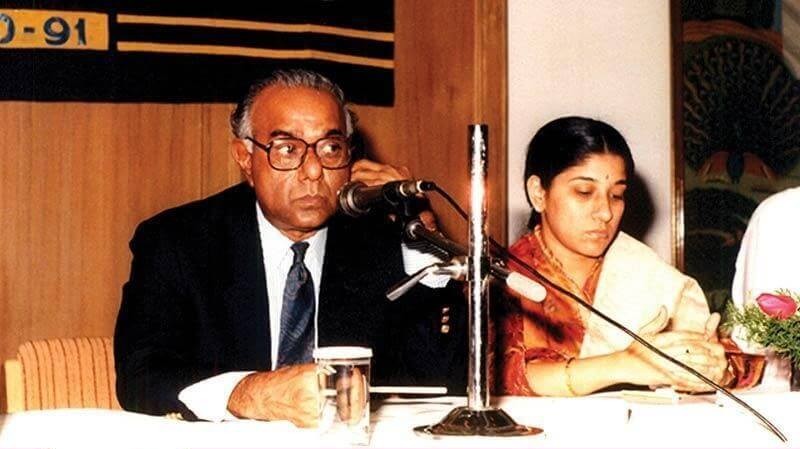 Mallika Srinivasan's graduation subject was Mathematics. When she started out in the 80s after passing through the impressive arches of the University of Madras and Wharton School of Business, Pennsylvania University she was an unusual mix of a pioneer and a gen-next. Pioneer because very few women had broken the glass ceiling. She was also the next generation of leaders who were looking at a global vista. Those were transition times. While the world shrunk, markets expanded. And a potential customer or a market could be anyone at any place on earth and work could take one anywhere. Chafing at restraints and protectionism, brighter minds were eager to break free. Mallika Srinivasan was one of those and in the early stages of her career she inherited a country that was opening up to the world.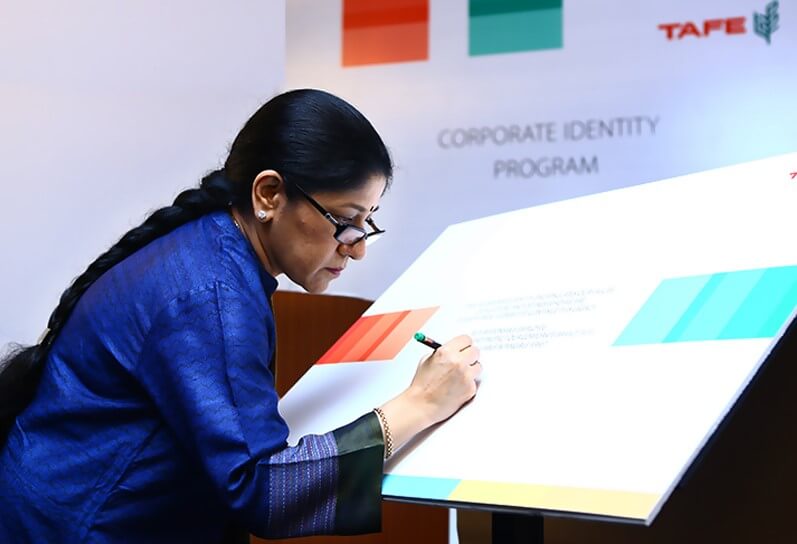 Finding her Way and Paving the Way
While she might have considered other ways of making a mark, her father and Chairman of TAFE A. Sivasailam was never in any doubt that she belonged to TAFE. She was made the General Manager of TAFE in 1986. Despite being a family-owned company, there wasn't even a whiff of any entitlement. In her words, the early days were not easy. The designation may have sounded impressive but it was the proverbial throwing of a beginner at the deep end of the pool. You learn to swim. No job descriptions were given when she joined but merely told to find out what she could do. A partitioned space in one of the TAFE building's corridors served as her office. Talk about the corridors of power!
Mallika. Srinivasan remembers, "There was a well-set team in place. Most of the members had worked for my father since he started TAFE in 1964. And here was this young lady girl coming along to join them. Some were welcoming, but some were very skeptical."
Changing Perceptions
Mallika Srinivasan believes in equal opportunity for all and ensured that she creates a workplace that is balanced for the better. "My good wishes to all the women towards pursuing their dreams, be it professional or personal. Pursue them with confidence and be rewarded with a fulfilling sense of satisfaction and happiness.", was the greetings she gave to the sisterhood during Women's Day.
A recent example of this was her views expressed at a recent event organized by the Madras Management Association where she highlighted an inequitable, anomaly – the skew in the number of women in the workforce of India.
She said it is surprising to her that there are so few women in the national workforce, given that unlike when she started, women today have no real, solid reason for these dismal numbers… reasons of lack of opportunities, lack of education, prospects, or sheer talent and potential. It is up to women to take confident strides and bring their unique touch and take on things and make a difference. She recounted her own experiences of having to work hard to surmount obstacles, change perceptions and correct bias.
Sharing a master key she says it is important to be decisive. "If you take quick decisions and back it up with action and be in the thick of the action hands-on, it creates respect. This happened to me.
She led TAFE in the new, open India to the top of the heap.
And TAFE at 60, between the 3 generations has seen J dream, Sivasailam give those dreams wings and Mallika Srinivasan flies on those wings.
Walking Tall
Personal acclaim, awards and recognition have followed her too all through the years. Mallika Srinivasan is a Padma Shri recipient. She features regularly in the lists of business leaders and wealth creators who impact the corporate world and culture in a positive, powerful way. NDTV Profit Business Leadership Awards (2012), Sir Jehangir Ghandy Medal for Industrial and Social Peace (2015), BBC 100 Women 2016, Business Woman of The Year Award by the ETPrime (2020) are a notable few.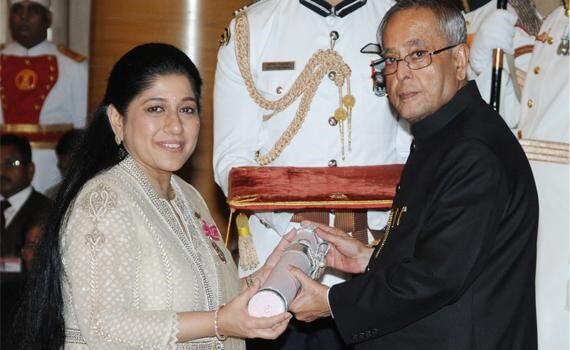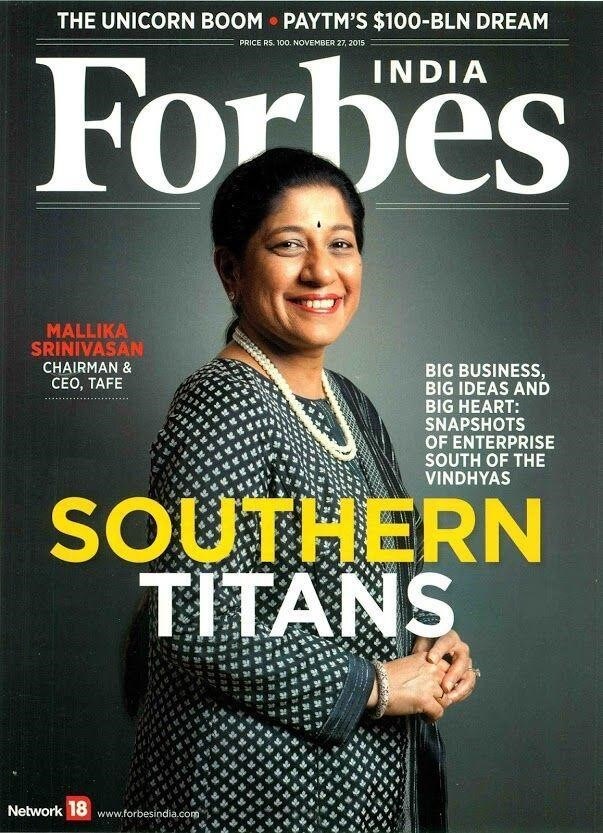 She is also in the leadership position of various leading business houses, public institutions, educational institutions and more. Mallika Srinivasan holds position in the Boards of AGCO Corporation – USA and TATA Steel Limited. She is also on the Global Board of U.S.-India Business Council (USIBC), a core member of the BRICS Women's Business Alliance (BRICS WBA), member of the Executive Board of the Indian School of Business (ISB) – Hyderabad, member of the Governing Board of the Indian Institute of Technology (IIT) – Madras and a member of the Governing Body of Stella Maris College – Chennai, Chairperson of the Public Enterprises Selection Board (PESB).
Accelerating Business Growth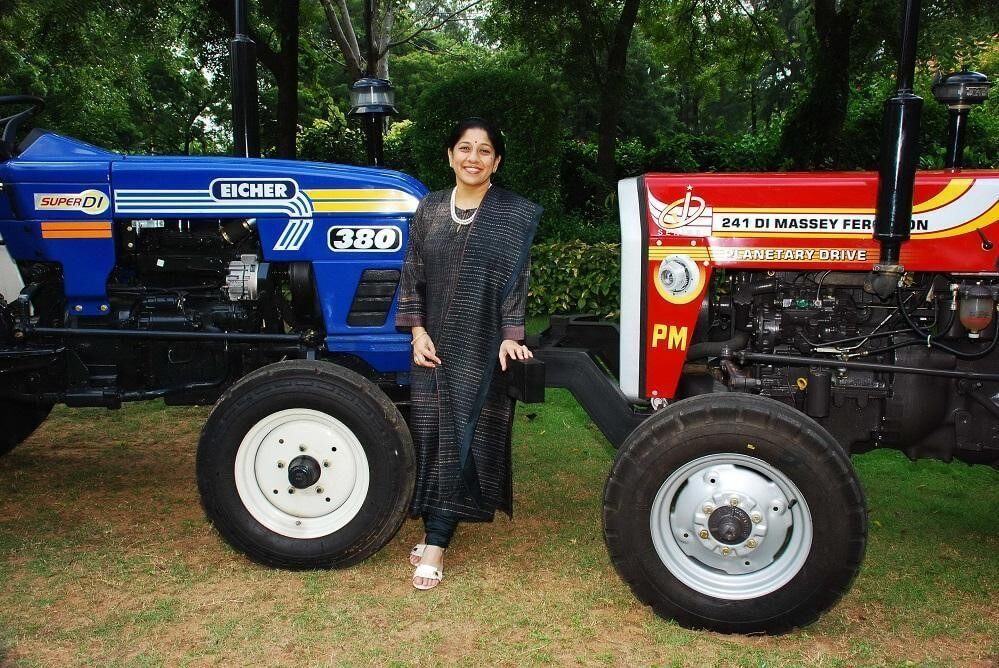 Mallika Srinivasan's steering of TAFE has seen it reach heights and be a globally loved and accepted Tractor brand. As TAFE celebrates its 60th Diamond Jubilee Year it is a milestone-filled route that TAFE Tractors have traveled on. It has also been a unique interlinked, hand-in-hand journey of a new India and a fledgling TAFE, one born in 1947 the other in 1960. Today, TAFE ranks amongst the Top 3 makers, exporters and sellers of tractors and farm equipment.
The company has grown through strategic acquisitions, widening its footprints in the overseas markets, strengthening its presence across India and the world and through strategic verticals. Today, TAFE is the third-largest tractor manufacturer in the world and the second largest in India by volumes, and sells over 180,000 tractors (domestic and international) annually. TAFE is recognized as a high-quality mass manufacturer with an extensive product range to meet the expectations of every farmer and every farm mechanization need. TAFE's R&D facilities are centers of excellence renowned for their innovative design and engineering expertise and have been recognized by the Department of Scientific and Industrial Research, Government of India.
Being Future Ready
Preferring to describe herself as a thought leader, she sees the future as one to secure certain things. Secure our food needs through intelligent technology, precision farming and by giving a scientific thrust to the timeless ideas in traditional farming. Her vision sees the need to secure our talent pool by opening up opportunities in farming and making it attractive as a profession and a big contributor to world food security.
Today the world has changed. Every human emotion has found play in these two difficult years. And in the journey of TAFE, from J to Mallika Srinivasan, it has always shown and upheld the value of working together in Cultivating a World equitable for all.